One of the most frequently used functions in portatour® is the customer search. It is available as quick search, extended search and saved search.
As of now the same functionality is also available for appointments, tasks, reports and users. One difference: whereas in the customer list the search function is always displayed, in the other lists you have to switch to the search mode by clicking the magnifying glass symbol. Another click on the magnifying glass symbol ends the search mode; you will see the standard view of the respective list again.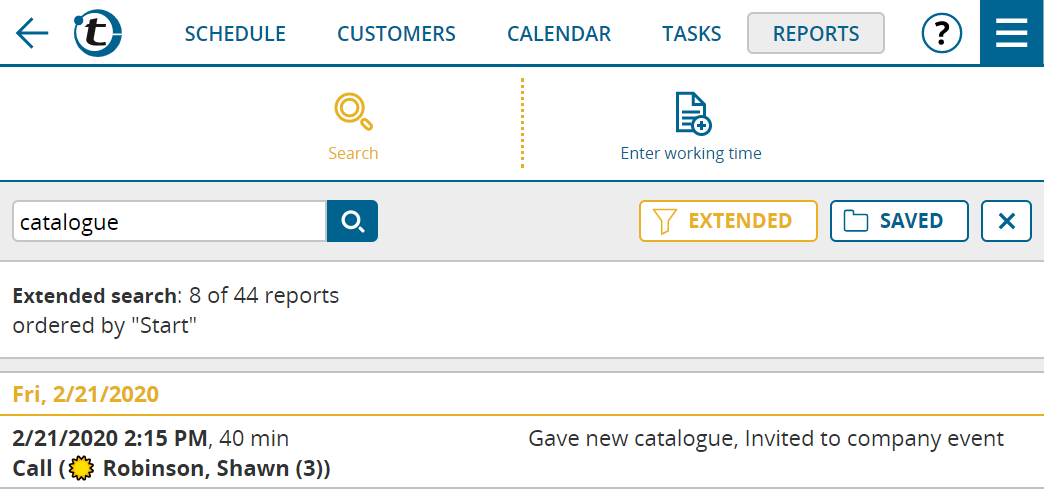 What else is new in the search?
The symbol for the extended search is now a filter symbol instead of the configuration wheel symbol.
If an extended search or a saved search is currently active, this will be easily recognizable by the yellow color of the respective button. In addition, a new button with an X symbol is displayed to the right of it, with which you can end the search and return to the standard view.
If an extended search or a saved search is currently active, you can also perform a quick search, which will narrow down the search result even further. Up to now, every quick search has ignored previous searches.
Hints for the quick search
For those of you who don't already know, in the quick search, you can enter multiple search terms in the search field. For example, if you enter "Turner Oakland" in the search field, all customers containing "Turner" and "Oakland" will be found – in this example in the name and the city. The words do not have to be written out in full.
Additional information
The search also affects the export button below the list. When a search is active, you can choose whether to export only the rows found or all rows.
You can search for appointments by clicking the list symbol at the top right of the calendar and then the magnifying glass symbol for the search.
In the reports list you will find the three well-known functions "Clock in", "Clock out" and "Report day off" via the new button "Log working time".