Integration of the lower function bar into the upper function bar
On all pages, the buttons that were previously in the function bar at the bottom of the page have been moved to the top function bar. This has the advantage of now having only one function bar, so it is no longer necessary to scroll down.
Usually, rarely used functions are grouped under the righthand button More. Likewise, on narrow smartphones, some functions are moved under More for space reasons.
Example schedule

Click More.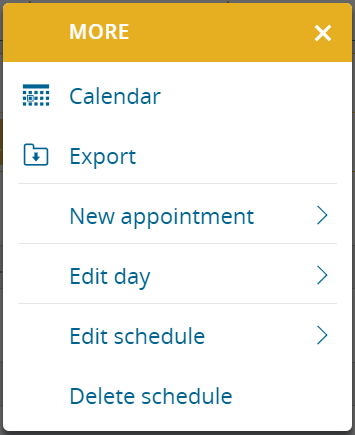 Change in the display of menus
The menus have been modernized for better readability. See the following before/after comparison:
Support for "Petal Maps" as navigation app
The navigation app "Petal Maps", which is mainly used on Huawei smartphones, is now directly supported by portatour®. If you have this app installed on your smartphone and want to start it automatically when you click Navigation, proceed as follows:
Open the Options in the main menu.
Click Program Settings.
In the GPS Navigation section, switch to Petal Maps.
Click Save.
Map: Default display of driving routes instead of beelines
When you display newly calculated schedules on the map, the actual driving routes are now displayed by default instead of simplified beelines.
The cogwheel button at the top right of the map still allows switching between driving routes and beelines.